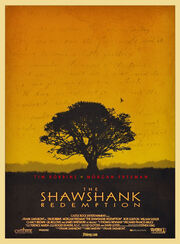 Andy Dufresne and the Shawshank Redemption is a Disney Animated Film. It is based on the novella by Stephen King. It is the story about a banker who spends nearly two decades in prison despite his claims of innocence and his friendship with another prisoner.
Ben Affleck as Andy Dufresne
Denzel Washington as Ellis "Red" Redding
Tommy Lee Jones as Warden Samuel Norton
Ron Perlman as Captain Byron Hadley
James Cromwell as Brooks Hatlen
Kim Coates as John "Bogs" Diamond
Paul Ben-Victor as James Heywood
Andrew Garfield as Tommy Williams
Denis Leary as Joe Hayworth
Tom Kane as Judge William Walker
Ad blocker interference detected!
Wikia is a free-to-use site that makes money from advertising. We have a modified experience for viewers using ad blockers

Wikia is not accessible if you've made further modifications. Remove the custom ad blocker rule(s) and the page will load as expected.