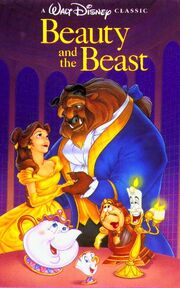 Beauty and the Beast is a Disney Animated Film. It was first released in November of 1991. It was the first animated movie to have an Oscar nomination for Best Picture. It was based on the fairy tale by Jeanne-Marie Le Prince de Beaumont.
Paige O'Hara as Belle
Robby Benson as The Beast
Richard White as Gaston
Jerry Orbach as Lumiere
David Ogden Stiers as Cogsworth
Angela Lansbury as Mrs. Potts
Bradley M. Pierce as Chip Potts
Rex Everhart as Maurice
Jessi Corti as Lefou
Jo Anne Worley as Madame de la Grande Bouche
Kimmy Robertson as Babette
Hal Smith as Phillippe
Tony Jay as Monsieur D'Arque
Ad blocker interference detected!
Wikia is a free-to-use site that makes money from advertising. We have a modified experience for viewers using ad blockers

Wikia is not accessible if you've made further modifications. Remove the custom ad blocker rule(s) and the page will load as expected.