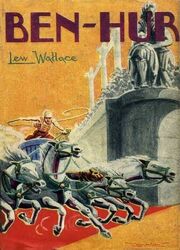 Ben-Hur is a Disney Animated Film unknown about release dates. It's the story about a Jewish prince who is enslaved by his childhood friend and tries to seek redemption for his honor. It is based on the novel by Lew Wallace.
Ben Affleck as Judah Ben-Hur/Jesus Christ
Jennifer Garner as Esther
Matt Damon as Messala
Craig T. Nelson as Simonides
Val Kilmer as Quintus Arrius
Scarlett Johannson as Tirzah
Gary Oldman as Emperor Tiberius
David Ogden Stiers as Sheikh Ilderim
Alan Rickman as Pontius Pilate
Dianne Wiest as Mariam
David Thewlis as Gaius Antonius
Brian Blessed as Balthazar
Steve Carrel as Martin
Neil Patrick Harris as Lew
Richard Gere as Valerius Gratus
Ad blocker interference detected!
Wikia is a free-to-use site that makes money from advertising. We have a modified experience for viewers using ad blockers

Wikia is not accessible if you've made further modifications. Remove the custom ad blocker rule(s) and the page will load as expected.