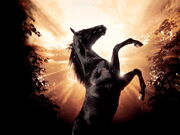 Black Beauty is a Disney Animated Film. It is based on the novel by Anna Sewell. It is currently unknown about released dates.
Voice Cast
Edit
Andrew Garfield as Black Beauty
Emma Stone as Ginger
Val Kilmer as Farmer Grey
Nathan Gamble as Joe Green
Sherri Shepherd as Hootie the Owl
Alfred Molina as Jerry Barker
Stanley Tucci as Squire Gordon
Tommy Lee Jones as Reuben Smith
Gary Sinise as Mr. York
Steve Carrel as Red the Cardinal
George Lopez as Pablo the Woodpecker
Tobey Maguire as Older Joe Green
Ad blocker interference detected!
Wikia is a free-to-use site that makes money from advertising. We have a modified experience for viewers using ad blockers

Wikia is not accessible if you've made further modifications. Remove the custom ad blocker rule(s) and the page will load as expected.