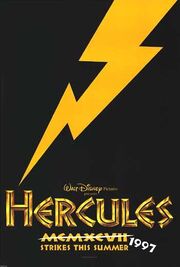 Hercules is a Disney Animated Film. It was released in June 1997. Based on Greek mythology, it follows the Greek hero as he tries to go from "zero to hero".
Voice Cast
Edit
Tate Donovan as Hercules
James Woods as Hades
Danny DeVito as Phil
Susan Egan as Megara
Frank Welker as Pegasus
Rip Torn as Zeus
Samantha Eggar as Hera
Bobcat Goldthwait as Pain
Matt Frewer as Panic
Paul Shaffer as Hermes
Keith David as Apollo
Wayne Knight as Demetrius
Jim Cummings as Nessus
Lillias White as Calliope
Vanesse Y. Thomas as Clio
Cheryl Freeman as Melpomene
LaChanze as Terpsichore
Roz Ryan as Thalia
Amanda Plummer as Clotho
Carole Shelley as Lachesis
Paddi Edwards as Atropos
Hal Holbrook as Amphitryon
Barbara Barrie as Alcmene
Charlton Heston as The Prologue Narrator
Ad blocker interference detected!
Wikia is a free-to-use site that makes money from advertising. We have a modified experience for viewers using ad blockers

Wikia is not accessible if you've made further modifications. Remove the custom ad blocker rule(s) and the page will load as expected.