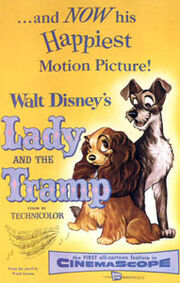 Lady and the Tramp is a Disney Animated Film. It was released in June of 1955. It was the first animated film to be shot in CinemaScope, an anamorphic lens series used for shooting widescreen movies during the 1950's and the 1960's. It's the story of an upper-class Cocker spaniel who falls in love with a stray mutt.
Barbara Luddy as Lady
Larry Roberts as The Tramp
Bill Thompson as Jock/Joe/Bull/Dachsie/Policeman
Bill Baucom as Trusty
George Givot as Tony
Peggy Lee as Darling/Si/Am/Peg
Verna Felton as Aunt Sarah
Stan Freberg as Mr. Busy the Beaver
Alan Reed as Boris
Dallas McKennon as Toughy/Pedro/Professor/Hyena
Lee Millar as Jim Dear/Dogcatcher
Ad blocker interference detected!
Wikia is a free-to-use site that makes money from advertising. We have a modified experience for viewers using ad blockers

Wikia is not accessible if you've made further modifications. Remove the custom ad blocker rule(s) and the page will load as expected.