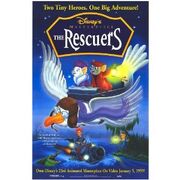 Miss Bianca in the Salt Mines is a Disney Animated Movie unknown about release dates. It's the story of Miss Bianca, who befriends a young boy whose father is killed by the evil gangster T-Flint, the boy's kidnapper. Not only do they have to rescue her partner, Bernard, but they must stop the gangster from getting five valuable jewels hidden within the Salt Mines.
Russi Taylor as Miss Bianca
Max Charles as Sean Williams
Cam Clarke as Bernard
Aaron Eckhart as Thomas Flint/T-Flint
Kevin James as Charles the Albatross
Brad Garrett as Dean McGreen
Holly Hunter as Verna the Squirrel
Jon Favreau as Sterling the Squirrel
Tom Kane as The Chairmouse
Samuel L. Jackson as Capt. Anderson
Dennis Haysbert as Titan the Dog
Tom Kenny as Buzz the Dragonfly
R. Lee Ermey as Sarge the Turtle
David Keith as Joseph Williams
Bill Engvall as Hopper the Rabbit
Anthony Anderson as Lt. Willie Newman
Seth Green as Mort the Mole
Joe Pantoliano as Otto the Owl
Frank Welker as Junius and Bruno the Iguana Bros.
Ad blocker interference detected!
Wikia is a free-to-use site that makes money from advertising. We have a modified experience for viewers using ad blockers

Wikia is not accessible if you've made further modifications. Remove the custom ad blocker rule(s) and the page will load as expected.