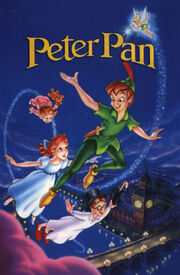 Peter Pan is a Disney Animated Film. It was first released in February of 1953. It was based on the play by J. M. Barrie. It was the last Disney animated film released through RKO Pictures. It was even entered into the Cannes Film Festival in France.
Bobby Driscoll as Peter Pan
Kathryn Beaumont as Wendy Darling
Hans Conried as Captain Hook/Mr. Darling
Bill Thompson as Mr. Smee
Paul Collins as John Darling
Tommy Luske as Michael Darling
Heather Angel as Mrs. Darling
Candy Candido as The Indian Chief
Tom Conway as The Narrator
Ad blocker interference detected!
Wikia is a free-to-use site that makes money from advertising. We have a modified experience for viewers using ad blockers

Wikia is not accessible if you've made further modifications. Remove the custom ad blocker rule(s) and the page will load as expected.