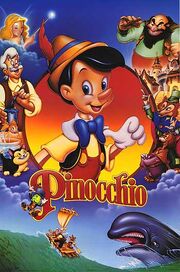 Pinocchio is a Disney Animated Film. It was the first released in February of 1940. It was the second film in the official canon and is based on Carlo Collodi's book, "The Adventures of Pinocchio". One of the characters in the movie, Figaro, became Minnie Mouse's pet cat.
Dickie Jones as Pinocchio
Cliff Edwards as Jiminy Cricket
Christian Rub as Gepetto
Evelyn Venable as The Blue Fairy
Walter Catlett as John Worthington "Honest John" Foulfellow
Mel Blanc as Gideon
Charles Judels as Stromboli/The Coachman
Frankie Darro as Lampwick
Ad blocker interference detected!
Wikia is a free-to-use site that makes money from advertising. We have a modified experience for viewers using ad blockers

Wikia is not accessible if you've made further modifications. Remove the custom ad blocker rule(s) and the page will load as expected.