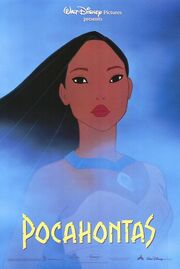 Pocahontas is a Disney Animated Film. It was released in June of 1995. It is the story of the Native American woman Pocahontas who saved the life of Englishman Captain John Smith. It is the first Disney animated film to be based on historical facts.
Voice Cast
Edit
Irene Bedard as Pocahontas
Mel Gibson as Captain John Smith
David Ogden Stiers as Governor Ratcliffe/Wiggins
Linda Hunt as Grandmother Willow
Russell Means as Chief Powhatan
Christian Bale as Thomas
Billy Connolly as Ben
Joe Baker as Lon
Michelle St. John as Nakoma
James Apaumut Fall as Kocoum
Gordon Tootoosis as Kekata
John Kassir as Meeko
Danny Mann as Percy
Frank Welker as Flit
Ad blocker interference detected!
Wikia is a free-to-use site that makes money from advertising. We have a modified experience for viewers using ad blockers

Wikia is not accessible if you've made further modifications. Remove the custom ad blocker rule(s) and the page will load as expected.