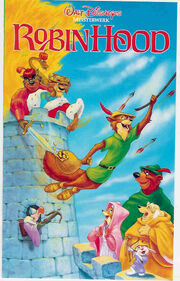 Robin Hood is a Disney Animated Film. It was originally released in November 1973. The animation was recycled from previously released Disney films. This is an all-animal version of the legendary hero.
Brian Bedford as Robin Hood
Monica Evans as Maid Marian
Phil Harris as Little John
Peter Ustinov as Prince John/King Richard
Terry-Thomas as Sir Hiss
Andy Devine as Friar Tuck
Carole Shelley as Lady Kluck
Pat Buttram as The Sheriff of Nottingham
Roger Miller as Allan-a-Dale the Rooster
George Lindsey as Trigger
Ken Curtis as Nutsy
John Fiedler as Father Sexton
J. Pat O'Malley as Otto
Barbara Luddy as Mother Rabbit/Little Sister Mouse
Candy Candido as The Tournament Crocodile
Billy Whittaker as Skippy
Richie Sanders as Toby
Dana Laurita as Sis
Dori Whittaker as Tagalong
Ad blocker interference detected!
Wikia is a free-to-use site that makes money from advertising. We have a modified experience for viewers using ad blockers

Wikia is not accessible if you've made further modifications. Remove the custom ad blocker rule(s) and the page will load as expected.