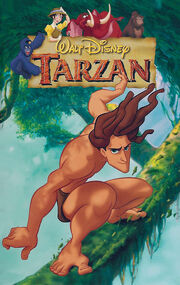 Tarzan is a Disney Animated Film. It is based on the story "Tarzan of the Apes" by Edgar Rice Burroughs. It was released in June 1999 and it is about a man raised by gorillas trying to decide his fate.
Tony Goldwyn as Tarzan
Minnie Driver as Jane
Glenn Close as Kala
Rosie O'Donnell as Terk
Wayne Knight as Tantor
Lance Henriksen as Kerchak
Nigel Hawthorne as Professor Porter
Brian Blessed as Clayton
Alex D. Linz as Young Tarzan
Frank Welker as Sabor
Ad blocker interference detected!
Wikia is a free-to-use site that makes money from advertising. We have a modified experience for viewers using ad blockers

Wikia is not accessible if you've made further modifications. Remove the custom ad blocker rule(s) and the page will load as expected.