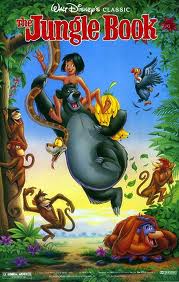 The Jungle Book is a Disney Animated Film. It is the last animated film produced by Walt Disney before his death in December 1966. It was based on the book by Rudyard Kipling. It was released in October 1967.
Bruce Reitherman as Mowgli
Phil Harris as Baloo
Sebastian Cabot as Bagheera
Louis Prima as King Louie
Sterling Holloway as Kaa
George Sanders as Shere Khan
J. Pat O'Malley as Colonel Hathi/Buzzie
Verna Felton as Winifred
Clint Howard as Junior
Chad Stuart as Flaps
Lord Tim Hudson as Dizzie
Digby Wolfe as Ziggy
John Abbott as Akela
Ben Wright as Wolf
Hal Smith as Elephant
Darleen Carr as Shanti
Ad blocker interference detected!
Wikia is a free-to-use site that makes money from advertising. We have a modified experience for viewers using ad blockers

Wikia is not accessible if you've made further modifications. Remove the custom ad blocker rule(s) and the page will load as expected.