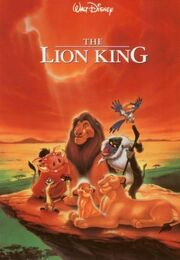 The Lion King is a Disney Animated Film. It was first released in June of 1994. It is inspired by William Shakespeare's play "Hamlet". It tells the story of a young lion who must avenge the death of his father and take over as king from his evil uncle.
Matthew Broderick as Simba
James Earl Jones as Mufasa
Jeremy Irons as Scar
Jonathan Taylor Thomas as Young Simba
Nathan Lane as Timon
Ernie Sabella as Pumbaa
Robert Guillaume as Rafiki
Moira Kelly as Nala
Rowan Atkinson as Zazu
Whoopi Goldberg as Shenzi
Cheech Marin as Banzai
Jim Cummings as Ed
Madge Sinclar as Sarabi
Niketa Calame as Young Nala
Character Gallery
Edit
Ad blocker interference detected!
Wikia is a free-to-use site that makes money from advertising. We have a modified experience for viewers using ad blockers

Wikia is not accessible if you've made further modifications. Remove the custom ad blocker rule(s) and the page will load as expected.