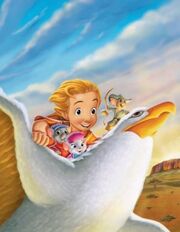 The Rescuers Down Under is a Disney Animated Film. It is the first animated sequel in the Disney canon. It's the story about a young boy who shares a friendship with a rare golden eagle. Bernard and Miss Bianca go to Australia to save them from an evil poacher.
Bob Newhart as Bernard
Eva Gabor as Miss Bianca
George C. Scott as Percival C. McLeach
John Candy as Wilbur
Tristan Rogers as Jake
Adam Ryen as Cody
Frank Welker as Joanna/Marahute
Wayne Robson as Frank
Bernard Fox as The Chairmouse/Dr. Mouse
Peter Firth as Red
Douglas Seale as Krebbs
Carla Meyer as Faloo
Russi Taylor as Nurse Mouse
Ad blocker interference detected!
Wikia is a free-to-use site that makes money from advertising. We have a modified experience for viewers using ad blockers

Wikia is not accessible if you've made further modifications. Remove the custom ad blocker rule(s) and the page will load as expected.