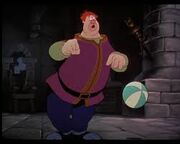 Willie the Giant (born June 22, 1969) is a character in the Mickey Mouse Universe. He is the main antigonist in the "Mickey and the Beanstalk" segment of "Fun and Fancy Free". After the events of the film, he redeemed himself. He played the Ghost of Christmas Present in "Mickey's Christmas Carol". In "Mickey Mouse Clubhouse", he appeared as a farmer. He lives in a cloud in the sky.
Ad blocker interference detected!
Wikia is a free-to-use site that makes money from advertising. We have a modified experience for viewers using ad blockers

Wikia is not accessible if you've made further modifications. Remove the custom ad blocker rule(s) and the page will load as expected.