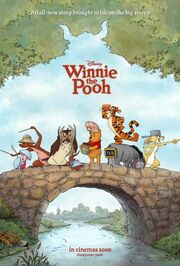 Winnie the Pooh is a Disney Animated Film. It is the third sequel to be released in the Disney canon. It was released in the United Kingdom and then the United States. Some of the voice actors for this movie are new to this storied franchise.
Jim Cummings as Winnie the Pooh/Tigger
Craig Ferguson as Owl
Tom Kenny as Rabbit
John Cleese as The Narrator
Bud Luckey as Eeyore
Travis Oates as Piglet
Jack Boutler as Christopher Robin
Kristen Anderson-Lopez as Kanga
Wyatt Hall as Roo
Huell Howser as The Backson
Ad blocker interference detected!
Wikia is a free-to-use site that makes money from advertising. We have a modified experience for viewers using ad blockers

Wikia is not accessible if you've made further modifications. Remove the custom ad blocker rule(s) and the page will load as expected.